The Hidden Costs of DIY Recruiting
When adding to your team, many think it's a fairly straightforward process.
Advertise
Find the perfect applicant
Hire them
They start to work for you
Easy right? Well, of course hiring managers know it's rarely that easy. In real life there are scheduling conflicts, salary negotiations, and a host of other bumps in the road that can draw the hiring process out. And the perfect candidates may not be on the market for long.
In this blog, we will run through some of the hidden costs that aren't always considered when going through the hiring process.
To illustrate this, we will use an example from one of our clients. In a recent hiring of four positions on their team, our client: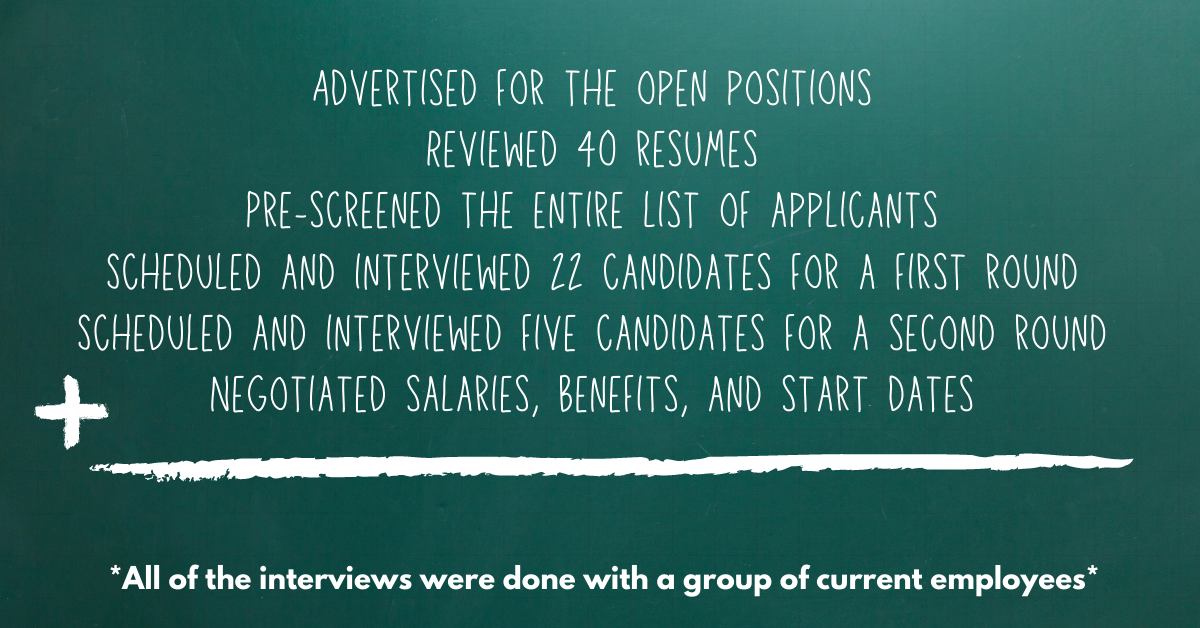 Time is money. Depending on how many people are in the room, you can see how the costs add up quickly. Not to mention, those current employees were being taken away from their job duties to sit through 27 interviews. That's a lot of lost productivity — another cost.
Partnering with Harbinger Partners can save you and your team both time and money. We take on many of the tasks required to find, interview, and hire the right candidate for your role. We research and present you with candidates who fit the skill requirements and your company culture. And we do it efficiently. By putting in the time up front to get to know your team and culture, we recommend applicants that fit your team well.
As an extension of your hiring team, we customize solutions for your recruiting and staffing needs. For more information on how we can help you, visit https://www.harbinger-partners.com/about-us/ or email info@harbinger-partners.com.